L'Aven d'Orgnac - Cave and prehistoric musuem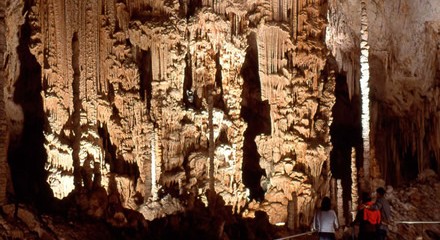 Among the largest caves in the world, Orgnac is now an exceptional space for discovery and conservation of the underground environment.
This is an amazing journey into the depths of the Earth and the time in the heart of magnificent rooms which is available to the visitor, crystallization remarkably fine pillars of several tens of meters high, tapers, columns, organ cases , draperies, battery plates, palm trees adorn the course.
The tour finished on 500 meters with many lookouts will take you to a depth of 121 meters underground.
The museum, opened in 1988, presents the succession of different cultures of the Ardèche and the northern Gard, from 350,000 to 750 BC, that is from the Early Palaeolithic period to the beginning of the Iron Age. It shows both prehistoric man in his natural environment, as well as the archaeologist's work.
After works, it will open again in 2014.